In Germany, English-speaking debating in schools is organized by the Debating Society Germany. More than 50 schools are taking part in German schools debating. They debate in school, take part in debating leagues and national championships and send delegates to international tournaments. On this page, we have collected information for students and teachers participating in German schools debate – we want you to get into contact with university debating!
For students graduating from secondary school:
This is how university debating works: In Germany, there are over 60 student debating societies at universities. They are all self-organized and independent from their universities. They usually debate once a week a self-chosen topic with a debating style much as the world schools format. Additionally, they do trainings in debating and judging and travel to tournaments all over Germany, Europa and the World – in German or English language.
For more information, we have compiled a short leaflet for all of you who want to get into university debating after graduating from secondary school: Please, feel free to join – every student debating society is happy and eager to welcome you. In most of our clubs, you will today find debating in English and German. Here's a list and a map with links to all student debating clubs in Germany.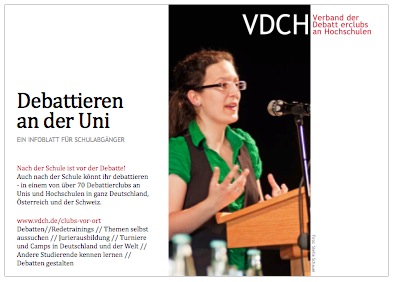 And after school? Go on debating!
Please find here a short leaflet for students graduating from secondary school. Although it is in German, it applies to you as well – many of our clubs are debating in English language.
Debattieren an der Uni 2012
For debating teachers
We really want all schools active in debating to get into contact with university debating societies. Many of our student societies are debating in English and take part in international tournaments. There are several things student debating societies and schools can do together:
Have a look at a local debating society. The student clubs are happy about every visitor – be it a single teacher interested to learn how university debating works or a whole class of students – we can arrange everything!
Come visit one of our tournaments. In Germany, there are between 15 to 20 debating tournaments a year. Most of them are in German, but there are several English speaking tournaments, too. If you want to come and visit, please get in contact with us!
Let's debate together. We will be happy to organize a debate training for your class, or to come with a team and make a show debate in front of your whole school. Or, we can organize a debate "school vs. university" – and don't be afraid of this: have a look into this press article about a school's team moving into the final of the regional university championships 2011!
In general, please get into contact if you are interested in university debating. We will bring you in contact with a local debating society and think with you about what we can do together!
Your contact to student debating


For all teachers active in schools debating, Jana Gilke is your VDCH-contact person. Jana is a schools debating alumnus and today active in the debating society of Mannheim. Thus, Jana knows both worlds and can help you with your questions or ideas.
// schoolsdebating [at] vdch [dot] de